WESTERN-CULLEN-HAYES, INC.
120 N. 3rd Street * Richmond, Indiana 47374
(765) 962-0526 * Fax (765) 966-5374
---
Switch Point Guard
---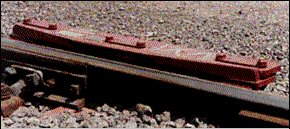 Western-Cullen-Hayes manufactures the Model FM Switch Point Guard. The FM is an important cost saving product that will prolong the service life of any type of switch point, and can help prevent derailments caused by wheels "picking" the switch. The FM deflects the rail car wheel away from the relatively fragile point of the switch, thus minimizing the wear that occurs at the point. FM's are available in standard "T" rail sections and can accommodate most styles of gauge plates.
Click here to see more about the Model FM Switchpoint Guard
Click here for Ordering Specifications
Click here for General Installation Instructions
Click here for Service Life and Maintenance information
---
Contact Western-Cullen-Hayes
for a complete Switch Point Guard brochure.