Compact, hydraulic bumper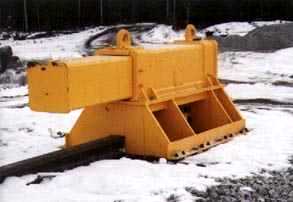 Hyraulic bumper for coal industry
Special Bumping Posts
Western-Cullen-Hayes is uniquely capable of designing and manufacturing, end of track safety appliances. Commonly known as Bumping Posts, these devices can be a relatively simple rigid design or a complex cushioning type, using hydraulics or friction to safely arrest movement.
Our expertise is by no means limited to the railroad industry. Since 1934, we have produced Bumping Posts for transit system applications, steel mills, coal mines and marine terminals. More recently the automotive and nuclear power industries have benefited from our years of experience in solving the problems associated with safely handling heavy loads.
Western-Cullen Hayes has designed Bumping Posts for overhead cranes and gantries, as well as for the coal industry.
Whether your need can be met by one of our standard Bumping Posts, or require the use of our extensive background to develop a design that accommodates your unique circumstances, Western-Cullen-Hayes is at your service.