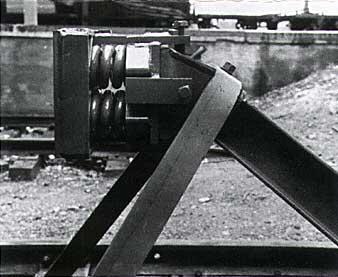 The W-C-H Hayco® Shock-Free® Head (U.S. Patent No. 2.860,582) pays for itself at every installation by prolonging bumping post life, cutting equipment damage at track-ends, and doing its share to decrease L & D claims.
This rugged unit takes only about thirty minutes to install, but it can mean the difference between a trouble-some or trouble-free track end. Thousands are providing it every day, around the world.
Our Shock-Free® Head is a 435 pound cushioning unit which is applied to the railroad bumping post after it is in track. It slips over the regular bumping post head and is made a part of the post by tightening the six cap screws provided.
Train impact is absorbed by compressing eight heavy springs which "float" between laminated rubber and fiber shock pads. As the Head compresses 1-5/8" from first coupler contact, the draft gear mechanism in the car comes into operation. At normal switching speed, the result is a shock-free final impact, protecting the bumping post, the car and the landing.
Specifications - Hayco Head
| | |
| --- | --- |
| Weight | 435 lbs |
| Striking Face | 15" x 17" |
| Extension, Open | 12-1/2" |
| Extension, Closed | 10-7/8" |
| | |
| --- | --- |
| Compression | 80,000 lb |
| Springs | 8, nested in twos |
| Shock Pads | 8, each 5/8" thick |
| Ordering Reference | Hayco® Shock-Free® Head |
Prolongs bumping post life...
Cuts equipment damage
Protects lading
When conditions do not permit the use of a steel bumping post, a Shock-Free Head can be mounted on a flat vertical surface by means of our Attaching Fixture. A 145 pound steel weldment, the Attaching Fixture is first secured to the vertical surface with bolts or lag screws. The Shock-Free Head is then slipped onto the fixture and the cap screws tightened, securing the Head in place. In this application, the Shock-Free Head permits the car coupler to come within 19-1/4" of the end of track.
Specifications - Attaching Fixture
| | |
| --- | --- |
| Weight | 145 lb |
| Material | 3/4" hot rolled steel |
| Extension | 6-3/4" |
| Extension with head mounted | 19-1/4" |
| Back Plate | 16" x 18" |
| Ordering Reference | W-C-H Attaching Fixture |